Swami Anasaktananda
Sivananda Yoga Ashram - Australia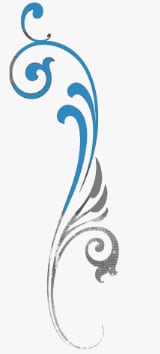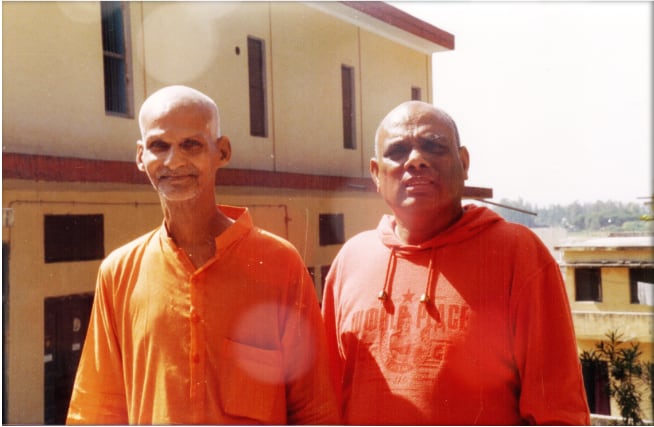 Swami Dayananda (left) and Swami Anasaktananda (right) at Sivananda Ashram Rishikesh, Himalayas 1991
Swami Anasaktananda
Swamiji, previously known as 'Yogi Syama Sundar', had learnt yoga asanas in British Guyana at twelve years of age. He learnt from Krishna, a nephew of Pandit Dheeman Prasad. Later, as a young adult, he left Guyana, after working as a government surveyor for some years, and went to the Bahamas to work in the construction industry.
British Guyana and The Bahamas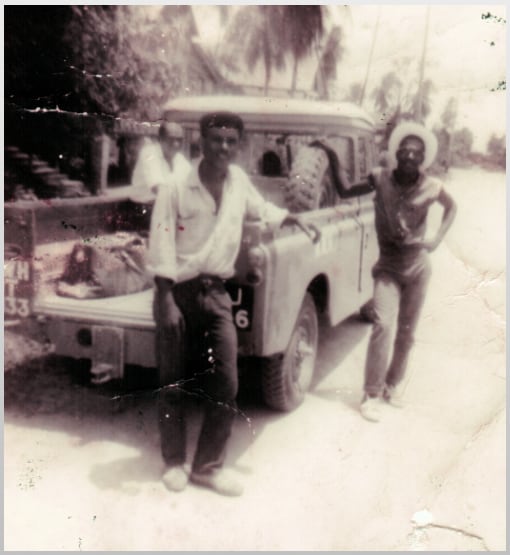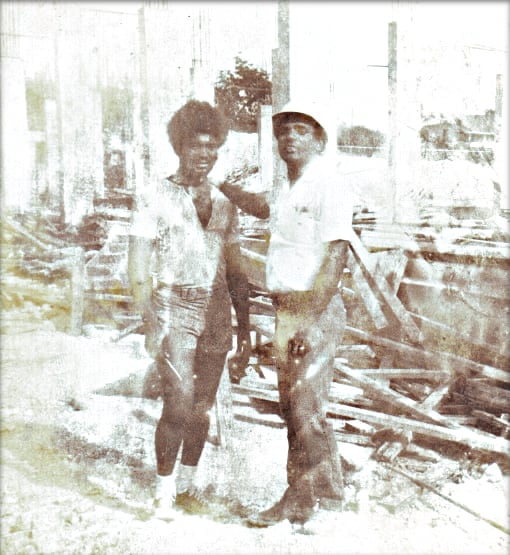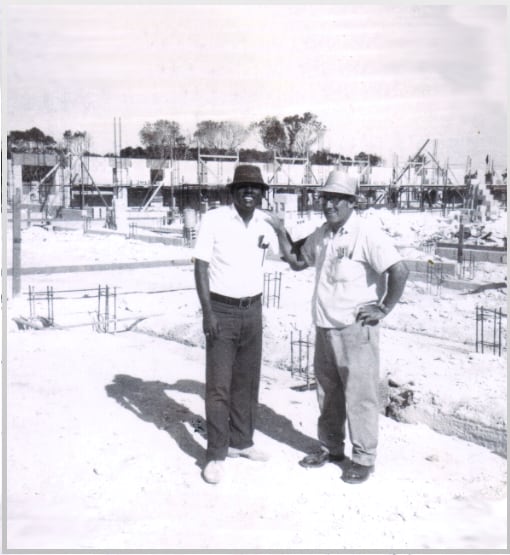 Around 1968, whilst working for Chee A Tow Engineering, he was assigned to survey the block of land on Paradise Island which belonged to Mrs Boswell, a client of Chee A Tow ('chey-tow'). He arived there to find Swami Vishnudevananda in orange robes, amongst diapidated buildings, snakes and spiders. He said the sand flies and mosquitos were so bad there he had to run to the boat jetty and 'jump overboard'.
Mrs Boswell was unsure about leasing the land to Swami Vishnu. Chee A Tow got Swamiji to talk to Mrs Boswell, and she provided the lease for the Yoga Retreat.
Yoga Retreat - Paradise Island Bahamas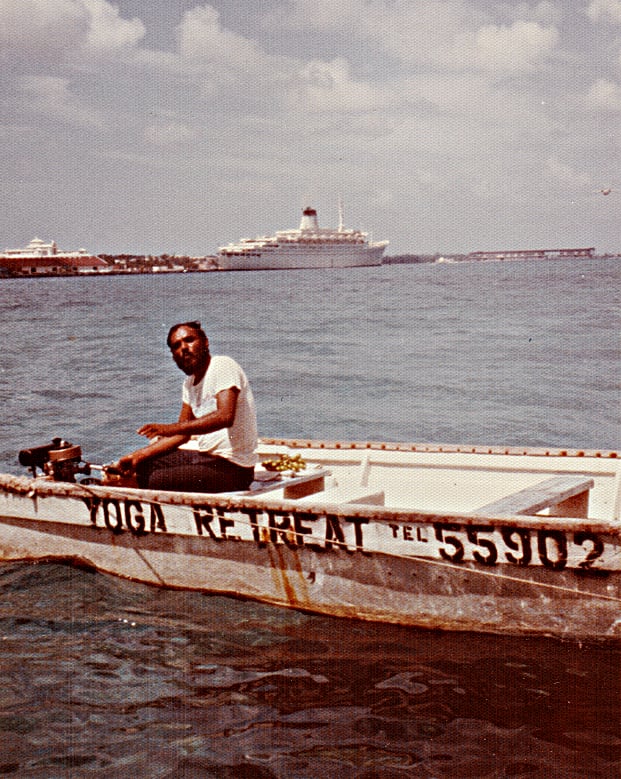 Swami Anasaktananda - Yoga Retreat
After renouncing wordly life in The Bahamas (as a very successful surveyor and civil engineer), Swamiji took to the life of yoga at the Yoga Retreat (1975). The stay there helped him to sacrifice all personal wants and to do Karma Yoga for his purification and control of the mind. As a result, he took up a lifetime of yoga practise in the lineage of Sri Swami Sivananda, the founder of the Divine Life Society.
In those days he and Swami Amshananda (then known as Rukmini) used to live on an allowance of 37 cents per day, and one gallon of fresh water per week for drinking. They had to wash in salt water. At times, much of the day was spent salvaging and cleaning leftover vegetables from the Supa Valu store in Nassau.
They worked hard and made a lot of sacrifice to help spread the teachings of yoga.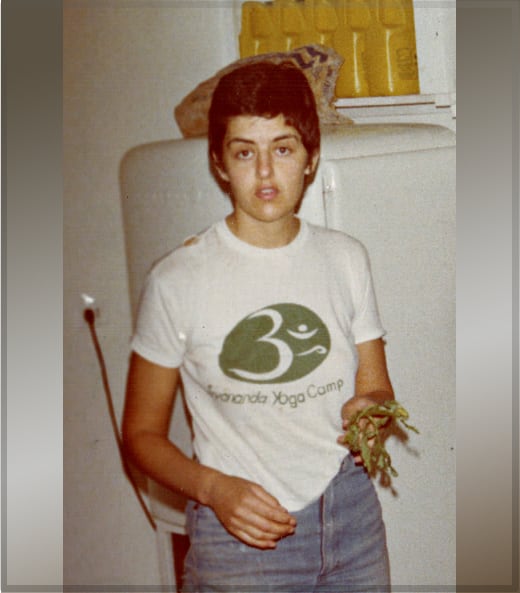 Swami Amshananda always believed in 'simple living and high thinking'.
(Yoga Retreat storeroom - 1976)
Sincerity and Swami Sivananda's Grace
From the Yoga Retreat, Swamiji and Mataji Rukmini moved to Dunedin, New Zealand. After selling the yoga centre there, they came to Australia with very little, after giving Swami Vishnu Devananda all the money from the sale of the property. A chinese man offered them 26 acres of land outside Sydney near the Blue Mountains to build an ashram. However, they declined the offer because they could see only trouble in this arrangement. Having a big ashram, means having to tell lies to get followers and funds for the upkeep of the ashram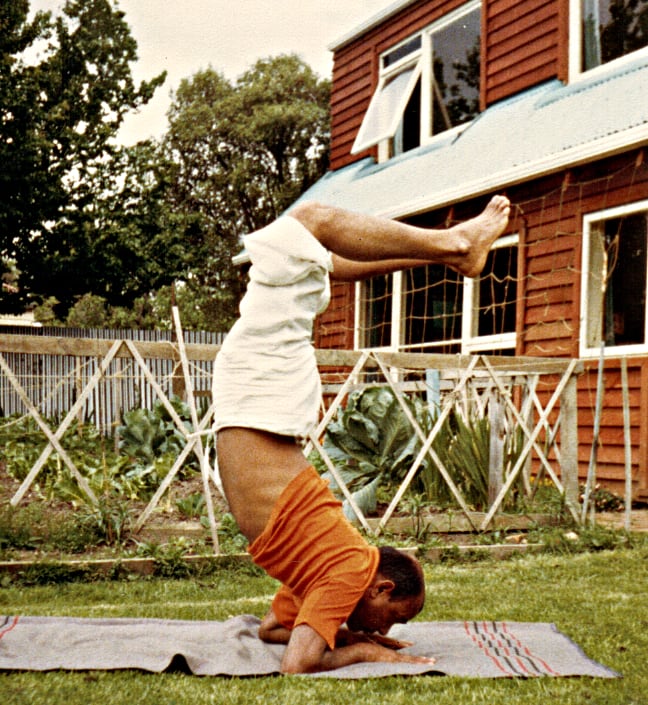 Swami Anasaktananda yoga centre Dunedin - circa 1979
After some time, they travelled to Brisbane to take over running the yoga centre there. When they came to Brisbane in 1982, the yoga centre had only $84 in the bank and classes were taught in a rented church hall.
Dr Hannan in New Zealand saw how simple they lived and consequently sent money to buy a car.
Swamiji always wanted to teach yoga free of charge, however, the high cost of running an ashram and looking after the needs of the residents, meant that it was necessary to charge for teaching in order to continue providing the required services and facilities. He found that he could not rely upon the community to provide sufficient help for the upkeep of the ashram.
Closer to the Divine Life Society
Swamiji (still known then as 'Yogi Syama Sundar') began studying Nada Yoga under Swami Nada Brahmananda in 1986. This began a series of stays at the Sivananda Ashram Rishikesh where he studied under his guru and also developed long lasting relationships with the senior swamis at the ashram.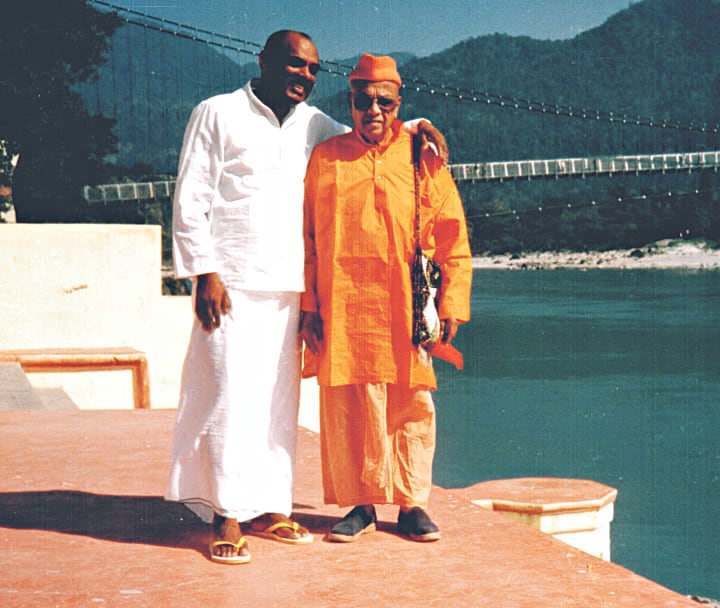 With Swami Nada Brahmananda - Sivananda Ashram Rishikesh circa 1987
Swami Dayananda urged Swamiji to learn as much as he could from Swami Nada Brahmananda and looked after cooking for him and washing his clothes in order to help achieve this goal.
Swamiji brought Swami Nada Brahmananda to the Brisbane ashram for about one year (from November 1987) with permission from Sri Swami Chidananda.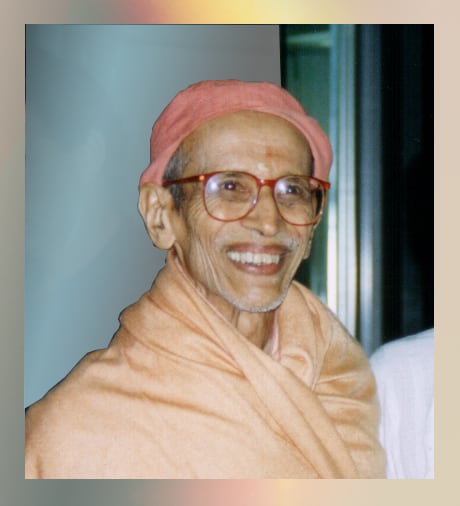 Swami Chidananda - Brisbane 1999
In April of 1999, Sri Swami Chidananda came to visit and conduct satsangs at the Brisbane ashram whilst in Australia. At this time, Sri Swami Chidananda initiated Swamiji ('Yogi Syama Sundar') and gave him the name Swami Anasaktananda. Sri Swami Chidananda asked Swamiji to initiate Mataji Rukmini when she was ready. This actually took place some years ago. She is now Swami Amshananda.
'Never make decisions under emotion.'